3D Plastic Molding Services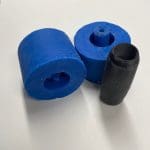 Send us your obsolete parts and we can 3D Scan them and then build molds and produce these parts in high quality, high temperature plastic.  Even if the parts are broken, we can repair them and then mold new ones.
So, if you are in the market for any custom molded parts that can then be finished in paint, wood grain, or carbon fiber, then Craft Customs is your one stop answer. Dash Trim parts and Panels, interior trim and accessories in leather, wood grain, and carbon fiber. Craft Customs has been restyling, modifying, repairing, restoring, and upholstering parts since 1991. As a result, we have worked on basically every make, year and model of vehicle on the road. From classics to luxurious – imports to domestics, Craft Customs has worked on most every make and model of car, truck and SUV.
Therefore, whether you are restoring your ride back to factory new or customizing it to the max, Craft Customs is here to help make it happen. If you have any questions, please do not hesitate to contact us below:
Craft Customs utilizes only the finest and latest in plastic molding and mold making to provide you the best results abailable.